Everyone has a Converse story. It sounds like an overstatement, but I do believe it is essentially true. The Converse Chuck Taylor All Star is, for all intents and purposes, the universal shoe (not to mention one of America's most iconic style staples). A pair of Chucks is among the few sartorial statements shared by people from all walks of life. Recently, I glanced down at the floor while on the NYC subway to spot three other commuters in my immediate vicinity sporting the exact same black All Stars as I was wearing.
So ingrained in our cultural fabric is this sneaker that about 100 million pairs were sold last year—that's roughly 273,000 pairs every single day. And since its debut in 1917, the iconic shoe has remained largely unchanged...that is, until now. As you might have heard, for the first time in almost 100 years, Converse has updated the legendary Chuck. But purists need not fret: The classic version will still be there, and the new version—dubbed the Chuck II—will keep all of the traditional shoe's most characteristic features while bettering its build and technology. My reaction? Sign me up! So, when the brand invited me to its new world headquarters in Boston, Massachusetts, to get a private sneak peek of the product and all things Converse, I hopped the next train over.
Click through the gallery to read more about Dani Stahl's adventure at the Converse Headquarters.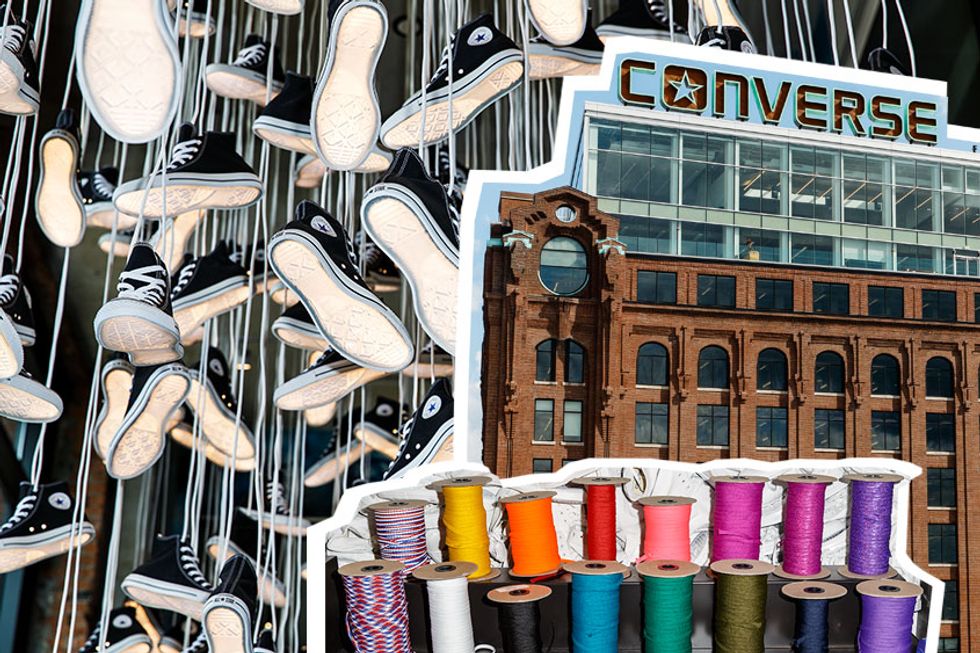 On a bright, sunny day in Beantown, I arrive at Lovejoy Wharf on the Charles River, where Converse's 10-story office building, complete with an adjoining flagship retail store and Converse Rubber Tracks recording studio, is situated. I walk in to find an open atrium with an enormous central staircase, and a grand Chuck Taylor sneaker chandelier that can only be described as #interiordesigngoals. Converse has even curated 22 works of art that are on display throughout the building—not too shabby.
As the first order of business, I meet with Damion Silver, the global design director for Converse All Star, who shows me the inspiration boards. He explains that creating the Chuck II was an overwhelming concept because the original is such a beloved shoe, but the team was up to the challenge of surpassing everyone's expectations. He hands me a pair of Chuck IIs and I try to point out exactly what I think is different. Not to brag, but this sneakerhead nailed it.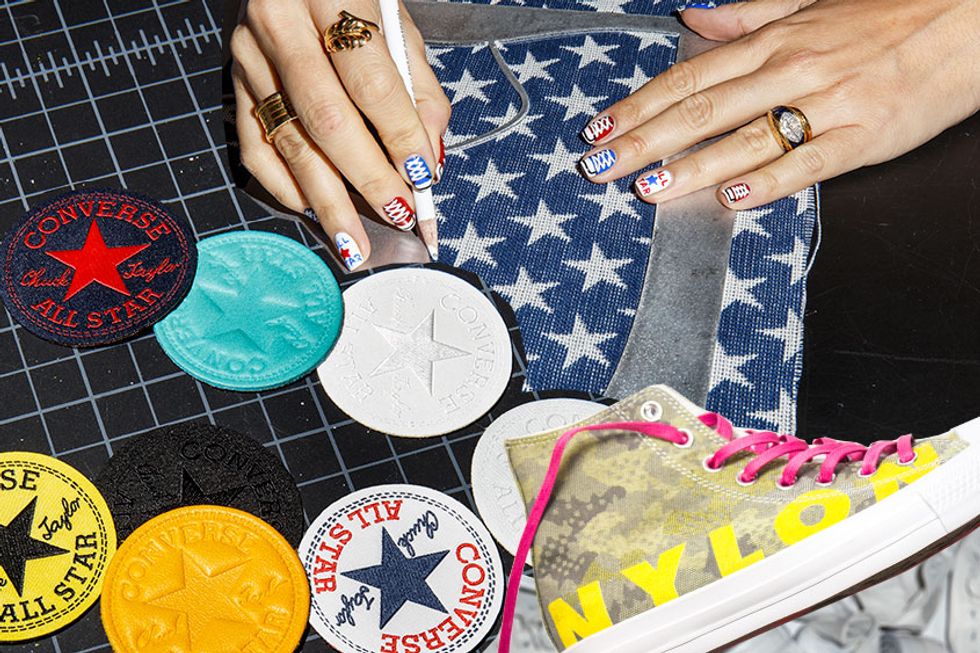 Basically, as promised, the Chuck II retains the most recognizable exterior attributes of the original Chuck Taylor (adding some sweet new monochrome matte eyelets, a fully embroidered logo patch, and all-white rubber foxing—that's sneaker speak for the side of the sole!). The most noticeable change is the incorporation of comfort features to support the lifestyle of the creative, active, and overall cool people who wear Converse. This includes a Nike Lunarlon sockliner for full-foot cushioning and arch support, a foam-padded collar and tongue for 360-degree comfort, and a perforated micro-suede liner for breathability during extended periods of wear.
Next, I meet Converse global creative director DTC Brandon Avery at the special customization area of the flagship store, where I have the run of the place to design two of my own pairs of Chucks. Spools of fabric line the wall (everything from rugged classics to expensive imported textiles). In honor of our America issue, my first pair will be a high-top that sports the stars and stripes in a pretty, woven fabric with a homespun feel. The other will be a multicolored leopard-print low-top with a white leather tongue and laces to balance out the busy pattern. (The fabric is a reinterpretation of an '80s archival print; the low style is my personal favorite.) I'm then led over to a third area where an awesome camo-print fabric emblazoned with a yellow NYLON logo sits ready to be crafted into kicks—Converse has created this special, one-of-a-kind gift just for us! I'm beyond excited. I lay out all of the fabrics, cut the pieces according to the patterns, and send them to the team behind the scenes to be assembled and soled. (Fun fact: They have a red stripe down the outsole because they came from the Boston flagship store.)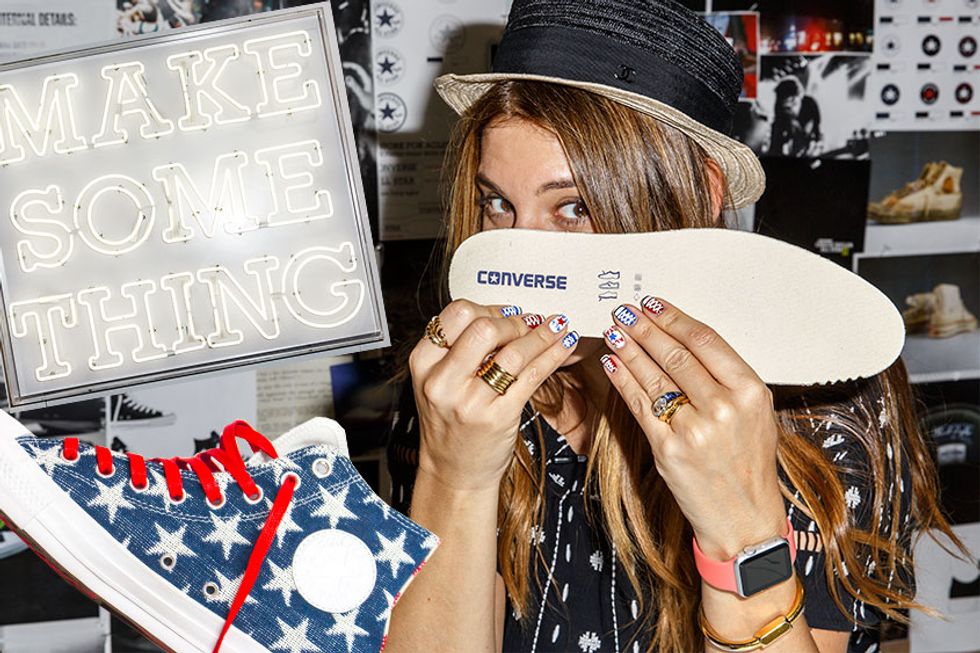 Before I go, I'm given a history lesson by Converse archivist Sam Smallidge himself. The archives feature the very first Chuck Taylors, Converse running trainers soled with Goodyear tires, sneakers worn by NBA players from the '70s through the '90s, and even pairs made in collaboration with artists and musicians including Andy Warhol, The Rolling Stones, Black Sabbath, and Gorillaz. It's all kept behind glass display cases, but lucky me gets to take the items out and touch them; it's like holding a piece of history.
I leave Boston with a profound sense of the cultural importance of this brand that has helped define footwear style here in the States and abroad for the better part of a century, and now with the Chuck II, will surely continue to do so for the century to come. And I say this in all seriousness, because girls like me know that sneakers are no joke.