Estamos a 24 horas de que la edición número trece del Pitchfork Music Festival empiece y por eso te traemos una guía para que disfrutes al máximo este fin de semana lleno de música y diversión en el Union Park, Chicago.
Lo primero, recuerda que el festival sucederá el 20, 21 y 22 de Julio, o sea, este fin de semana, en el Union Park. El festival contará como headliners a Tame Impala (viernes), Fleet Foxes (sábado), y a Ms. Lauryn Hill tocando por completo su disco "The Miseducation of Lauryn Hill" por su veinte aniversario (domingo). Sin embargo, el cartel cuenta con una gama de talento muy variada que seguro te encantará. Personalmente recomendamos a The War On Drugs, Japandroids, Zola Jesus y Japanese Breakfast (pica en el nombre de cada artista para ver el perfil que le hicimos a estos artistas). También recomendamos a otros actos como Blood Orange, D.R.A.M, sin duda a la magnífica Ms. Lauryn Hill, Chaka Khan y Circuit des Yeux; pero recomendamos que se atrevan a escuchar a un acto que no conozcan porque tal vez conozcan a su nuevo artista favorito ahí. 
Te dejamos los horarios a continuación: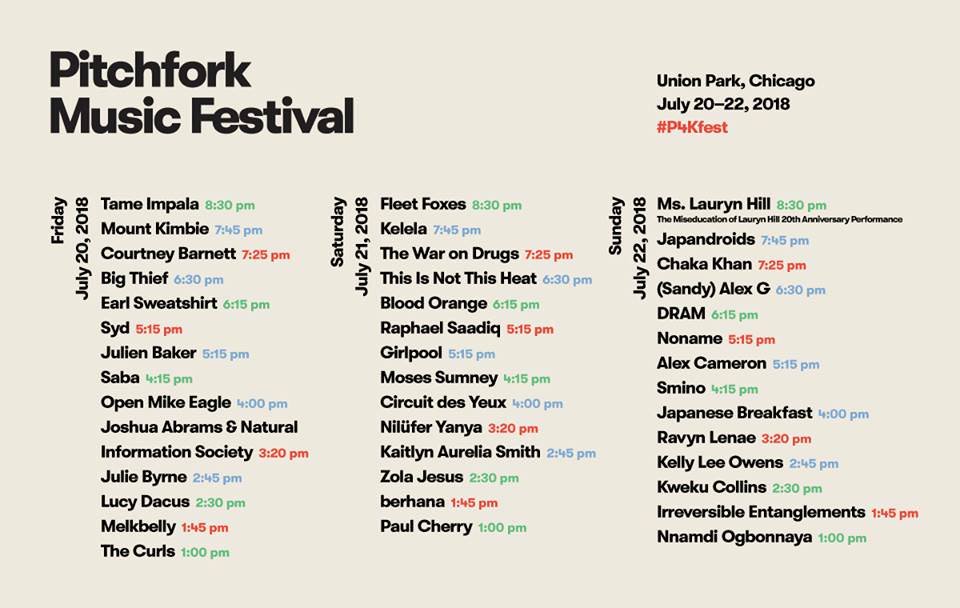 El festival a parte de contar con un repertorio muy variado de artistas también cuenta con atracciones para todos los gustos, como un mercado de viniles de tiendas independientes, hasta selección gourmet de alimentos y bebidas. No olvides que este año Goose Island se unió con Japandroids para crear una cerveza conmemorativa del festival cuyas ganancias serán donadas a RAINN, una ONG dedicada a luchar contra el abuso sexual y apoyar a las víctimas en Estados Unidos.
Recuerda estar al pendiente de nuestras redes para seguir nuestra cobertura a través del hashtag #PITCHFORKFESTxNYLONESP. O bien, sigue al festival a través del hashtag #P4Kfest. ¡Nos vemos allá!