Apenas tenemos algunos cuantos días de que inició el 2018 y ya empiezan a tomar forma algunos de los festivales más importantes que se realizan en los Estados Unidos. A continuación haremos un recuento de los ya anunciados y esperados por los seguidores de la música.
BONNAROO:
Este festival fue creado en 2002 en un rancho al sur de Nashville como una alternativa a festivales como Coachella. Este año presentan un cartel en el que notamos aparte de "The Killers" -el grupo acostumbrado por muchos de los organizadores de festivales desde hace algunos años- a Eminem y Muse; pero también llama la atención actos como: Chromeo, Sheryl Crow, Nile Rodgers, T – Pain, Paramore. Seguramente junto con la atmosfera musical que ofrece la ciudad de Nashville será una experiencia para recordar.
¿Dónde?: Great Stage Park, Tennessee.
Fechas: 7 de Junio al 10 de Junio de 2018.
Géneros: Pop, Rock alternativo, Indie rock, Hip hop.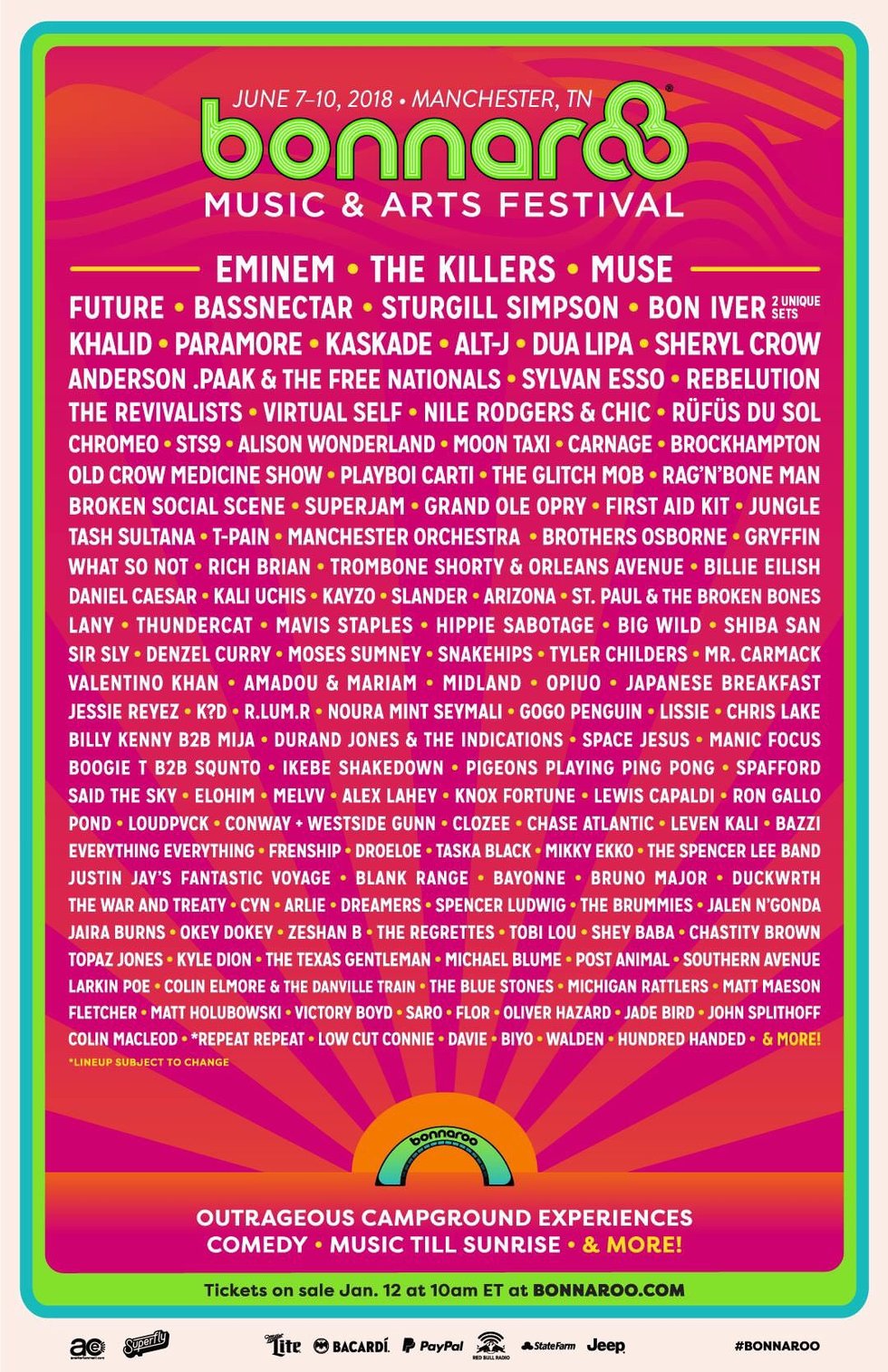 SHAKY KNEES FESTIVAL
En su sexta edición, el evento de tres días está más ligado al rock con el regreso de Jack White , Queens of the Stone Age y The National como Headliners del festival, algo incomparable en este festival es la reunión de The Distillers después de doce años de retiro como banda; otros de los actos más esperados son Julian Casablancas The Voidz, Franz Ferdinand, David Byrne.
¿Dónde?: Central Park, Atlanta GA.
Fechas: del 4 de Mayo al 6 de Mayo de 2018.
Géneros: Rock alternativo, Indie Rock, Electronico.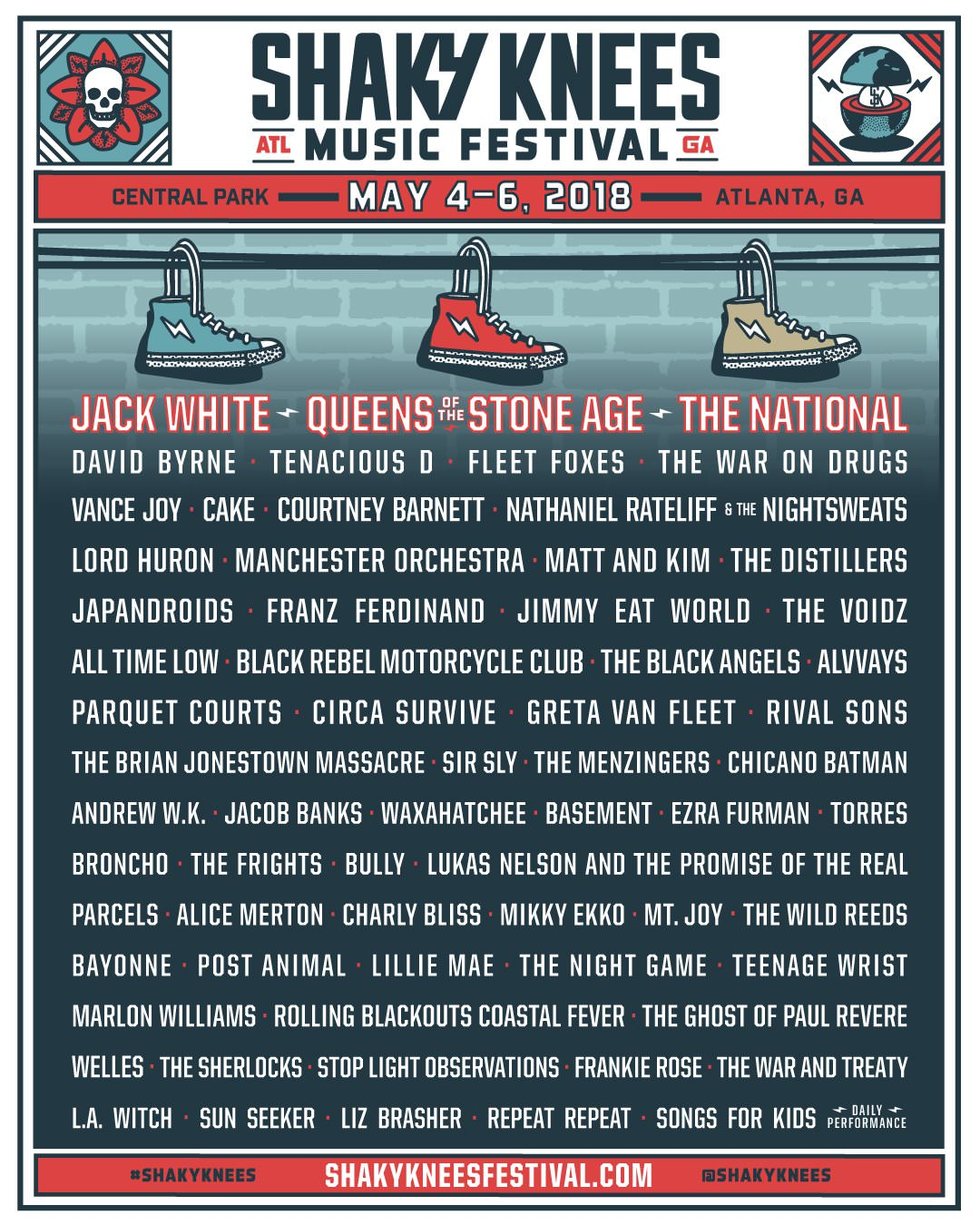 COACHELLA
Este si es una verdadera mezcolanza, y quedaron atrás las clásicas reuniones y regresos de algún grupo legendario como en ediciones anteriores. Aunque hay actos muy interesantes, en esta ocasión se nota que el festival se hizo más "POP", claramente para apelar al mainstream y para que los jóvenes asistentes al festival pongan en marcha su "Coachella Look" y enseñen sus mejores atuendos en redes sociales. El festival será algo así como escuchar la música del centro comercial en vivo. En está edición del evento podremos ver a: Beyonce, The Weekend, Cardi B, HAIM, Tyler the Creator, Migos, Miguel, Jamiroquai, A perfect Circle entre otros.
¿Dónde?: Indio, California.
Fechas: Primer fin de semana del 13 al 15 de Abril y, segundo fin de semana del 20 al 22 de Abril.
Géneros: POP, Hip Hop, Rock.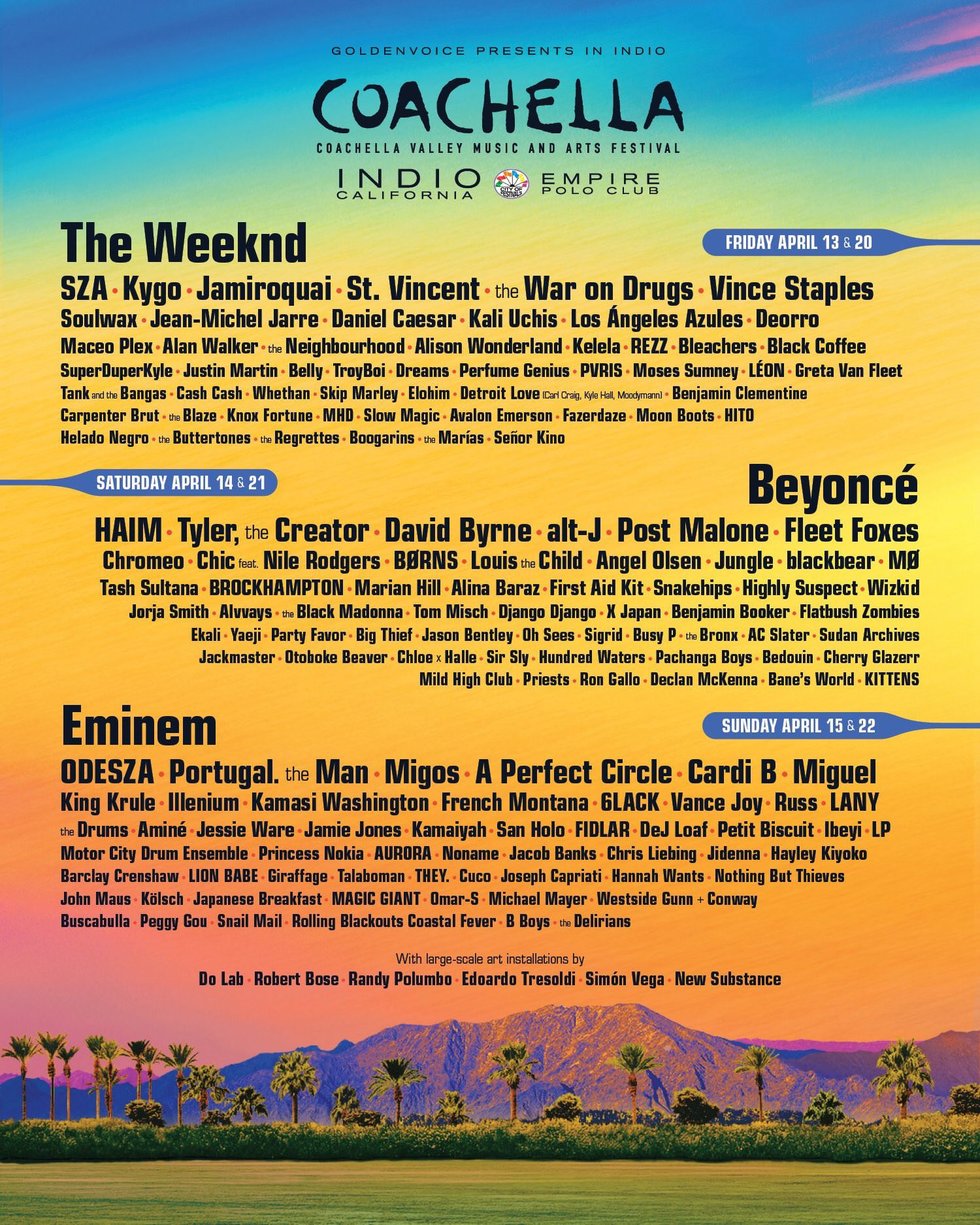 Governors Ball Music Festival
Este año el Randall Island Park se llenará de buena música de la mano de Jack White, Travis Scott y los Yeah Yeah Yeahs. También N.E.R.D tendrá un espacio para recordarnos por que los extrañábamos tanto, así como por primera vez un nuevo proyecto de Mark Ronson.
¿Dónde?: Randall´s Island Park, New York.
Fechas: del 1 de Junio al 3 de Junio de 2018.
Géneros: Rock, Hip Hop, Electro.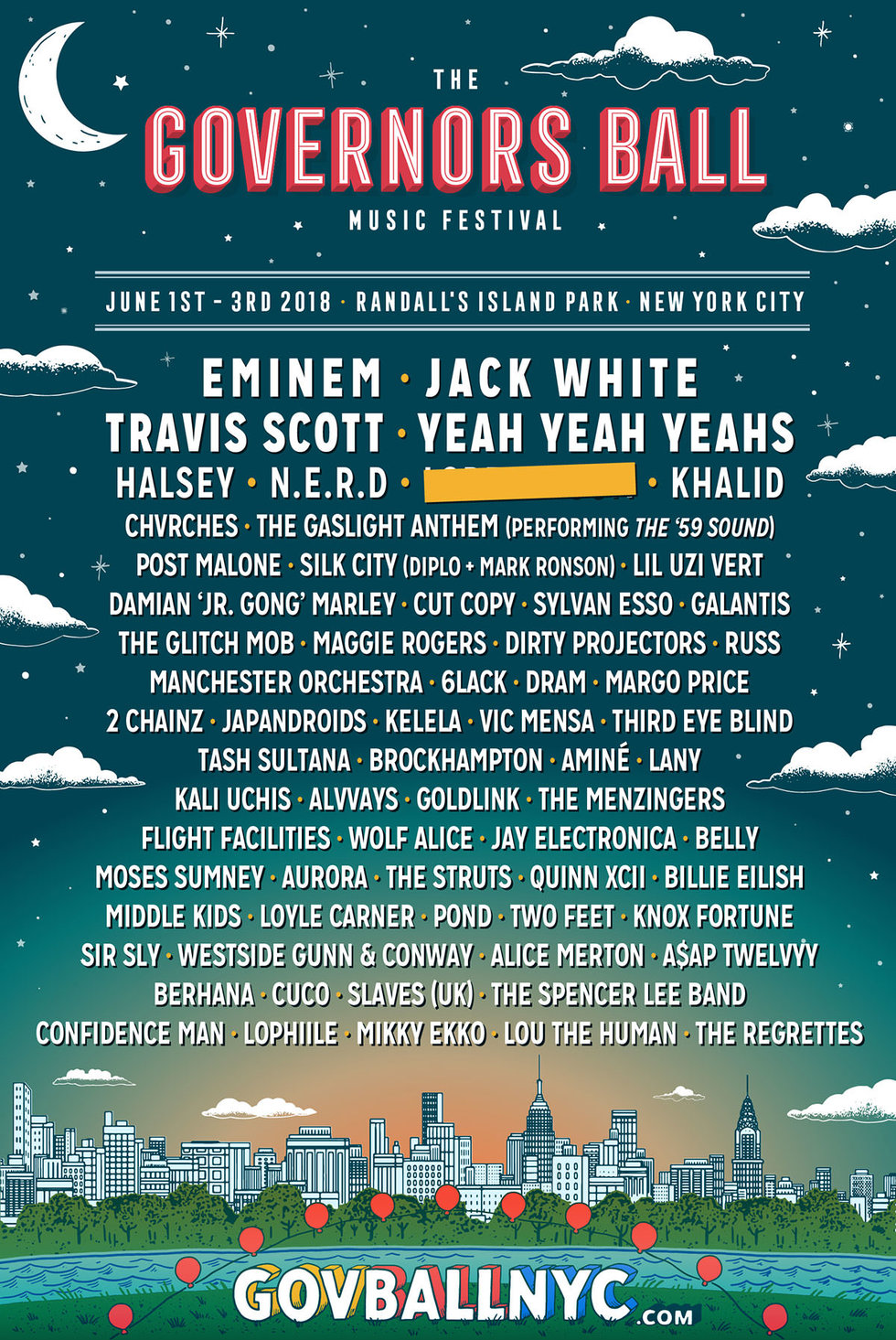 Firefly Music Festival
Eminem, Kendrick Lamar, Arctic Monkeys, The Killers encabezan el cartel de este año en FIREFLY Music Festival. Un destino interesante para aquellos festival hunters que quieren experimentar algo fuera de los festivales ya tan conocidos. Los boletos salen a la venta el 12 de Enero.
¿Dónde?: The Woodlands - Dover, Delaware.
Fechas: 14 de Junio al 17 de Junio de 2018.
Géneros: Rock alternativo, Indie Rock, Hip Hop.