Austin City Limits ha sido como una historia de amor para un servidor que les trae la información del festival en su edición 2018. Cinco veces me han bastado para saber que ACL es de los eventos más impactantes y únicos de su tipo, recuerdo que en 2012, en aquella primera vez que un chico de 19 años se aventuró a cubrir ese festival, me encontré con un after movie que decía exactamente lo siguiente:
"Tal vez sea el parque, tal vez sea la ciudad, tal vez sea la gente, la comunidad...
Las tradiciones....
La música...
El nuevo descubrimiento...
Las bandas legendarias...
Estos son los momentos que solo pueden ocurrir aquí. Tú eres ACL"
Este video ha servido para medir el éxito del festival en todos estos aspectos, en lo personal al paso del tiempo y al parecer todas estas palabras parecerían tomar sentido con el lineup de este año, que incluye todos esos elementos que los organizadores de ACL están tan orgullosos de tener: Paul McCartney, Metallica (por primera vez en la historia) y Childish Gambino hacen una terna impresionante para los tiempos que vivimos.
A través de las 2 semanas espejo que durará el festival, podremos disfrutar de actos como:
Arctic Monkeys, TRAVIS SCOTT, ODESZA, The National, Khalid, Hozier, David Byrne, CHVRCHES, Deftones, Justice, St. Vincent, Sylvan Esso, Father John Misty, Brandi Carlile, Shawn Mendes, Camila Cabello, Janelle Monáe y muchísimos más.
Las fechas son:
Primer fin de semana: Octubre 5-7, 2018
Actos exclusivos: Camila Cabello, Deftones, Greta Van Fleet, Sofi Tukker, Khruangbin, Shame, Supa Bwe, Wilderado, Asleep at the Wheel, The Weather Station, Mikky Ekko, Hailey Knox, Phil Cook, Flor, Injury Reserve, Sweet Spirit, Jackie Venson, Molly Burch, Sailor Poon, The Texas Gentlemen, Dizzy, Näm, Lovelytheband, Fickle Friends, Naked Giants, The Nude Party, Neighbor Lady, Wesley Bray & The Disciples of Joy, Bells of Joy, The Relatives, Lisa Loeb, Red Yarn.
Segundo fin de semana: Octubre 12-14, 2018
Actos exclusivos: Shawn Mendes, Lily Allen, Marian Hill, Trampled By Turtles, Rhye, Lo Moon, Thunderpussy, Wallows, Magic City Hippies, Davie, Charley Crockett, Freya Ridings, Duncan Fellows, Sasha Sloan, Harry Paradise, Kydd Jones, Curtis Roush, Arkells, Ruston Kelly, Blimes X Gab, Nicole Atkins, The Blancos, Superfónicos, Lucie Silvas, The Gospel Stars, TY Morris & H.O.W., The Spiritualettes, LArd Dog & The Band of Shy.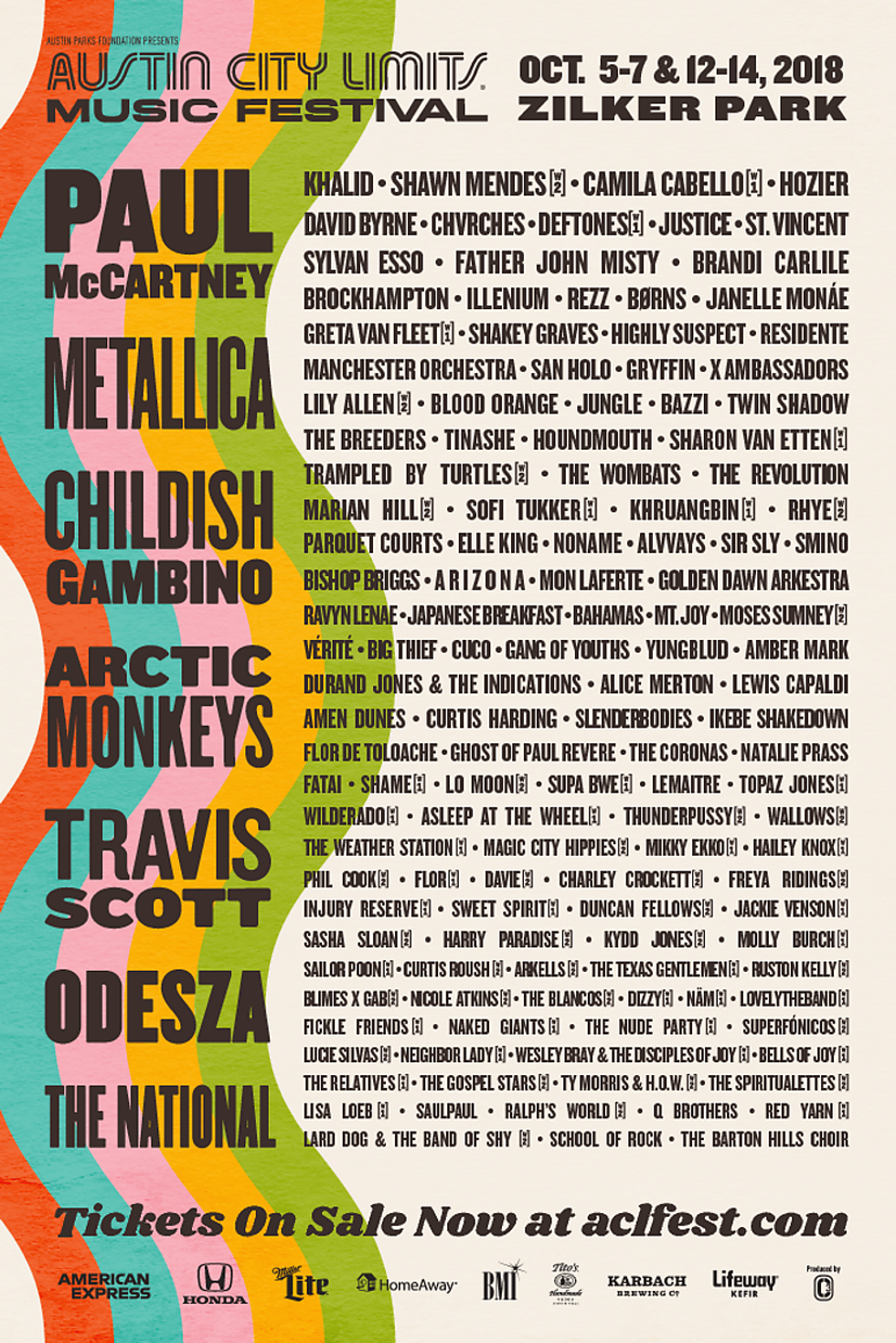 Los boletos para el festival ya están a la venta en https://www.aclfestival.com/tickets/ y todos los detalles de los paquetes especiales que ofrecen, se encuentran en la misma página.
Para quienes no puedan asistir al festival, www.redbull.tv tendrá la transmisión exclusiva de uno de los dos fines de semana.
#ACLxNYLONESP